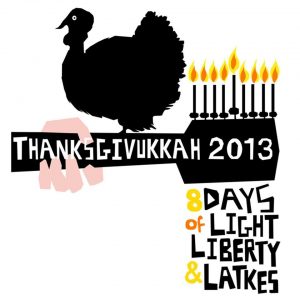 Tomorrow, for the last time until the year 79811, Thanksgiving overlaps with Chanukah, the Jewish Festival of Lights celebrating the Maccabees' victory over the Greeks.  There have been only two previous Thanksgivukkahs since Lincoln proclaimed Thanksgiving in 1863.  Naturally the word — and all the attendant marketing — are solely a product of our times, but here are some highlights of how the first one was reported in 1888, when people still couldn't agree how to spell Chanukah (Chanucca?!) and the holiday had to be explained to readers variously as the "Jewish Thanksgiving" or the "Jewish Christmas."
***
The Jewish Thanksgiving
To-morrow is recorded on the Hebrew calendar as Chanukah, the Jewish Thanksgiving, and it will be observed in much the same manner as the national holiday.  It is the occasion of entertainments and the extending of aid to the poor…
—Cleveland Herald, November 28, 1888
***
FEAST OF LIGHTS
How Hebrews Commemorate Achievements of Judas Maccabeus
Beginning this evening, Chanucca, the Feast of Dedication, or as called by Josephus, the "Feast of Lights," will be observed by the Jews all over the world.  By an accident of the lunar calendar it is celebrated by the Israelites of this country this year in conjunction with Thanksgiving Day.  Several years ago it fell late in December, when it was compared to Christmas…
—Baltimore Sun, November 28, 1888
***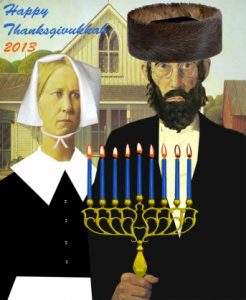 TWIN FESTIVALS
A Memorable Day for the Hebrews of New York
In perfect consonance with the sentiments above expressed, the one hundred thousand Hebrews and more of New York city yesterday celebrated a double Thanksgiving.  It just happened that both the Thanksgiving and the Chanuka festivals occurred on the same day.
Loyal to the core as American citizens, not a single Hebrew congregation failed to observe the President's commands, the words of whose proclamation were recited distinctly from the pulpit of every synagogue in this city.  The feast of the Chanuka does not call for any especial services in the places of public worship, as its observance is one more congenial to the home than to the church.  Yet any one who visited the various synagogues yesterday must have been astonished at the large number of worshippers present.
The two festivals merged well together.  The great American Thanksgiving was an incentive to these people to pour out their hearts before God and to make them feel that for once they were made to understand that all people are one before the Lord.  At the same time the Chanuka, or festival of dedication, celebrated for ages by their ancestors, appeared to them again as a thanksgiving festival for deliverance from the tyranny of that Syrian despot, Antiochus..
IN THE SYNAGOGUES
Combined Thanksgiving and Chanuka services were held by the Congregation Gates of Prayer, Rev. Dr. de Sola Mendes, in the synagogue in Forty-fourth street…  Dr. Mendes spoke as follows: —
"'Enter ye his gates with thanksgiving, his courts with praise; give thanks unto him; glorify his name.'  So spoke the Jewish psalmist of old, and in words that have become immortal.  So speaks the great and reverent heart of the mighty nation which distinguishes itself from all others by the institution of an annual day of Thanksgiving. It is a nation that is not too busy to take a day for the expression of gratitude toward the Giver of all good.  Although we, as observant Hebrews, have already celebrated our Feast of Tabernacles, our harvest home, still proud are we of the opportunity of worshipping with our brethren of other faiths, and we are the last to grudge an additional day of duty to God in the busy year.  The American nation, rising above differences of religious belief, says 'as long as ye are worthy citizens, loving what is right and doing it, it shall be no man's business to ask you what your religious faith is…'"