(Part One of Two.)

When I began researching my tree, of my eight great-grandparents, there was one whose family name I didn't even know — my father's mother's mother.  That grandmother died when I was quite young, and my father remembered nothing useful, so I ignored this branch until one day my mother found a list of family information in that grandmother's hand, including this entry for her brother (inset).
With the NYC Municipal Archives only 30 minutes from home, Sam's birth certificate (below) soon revealed the mystery last name…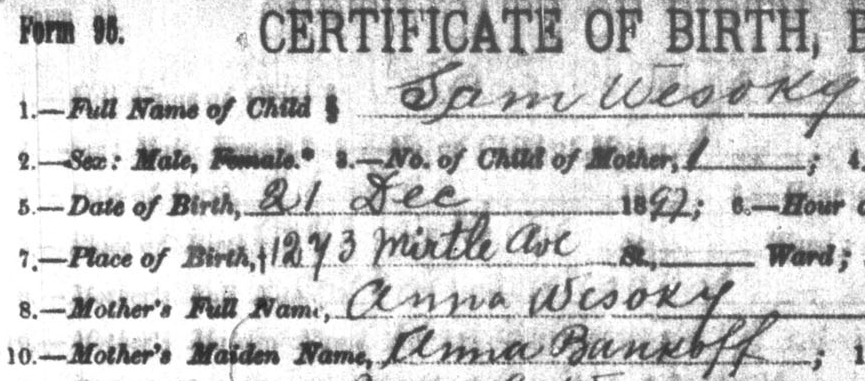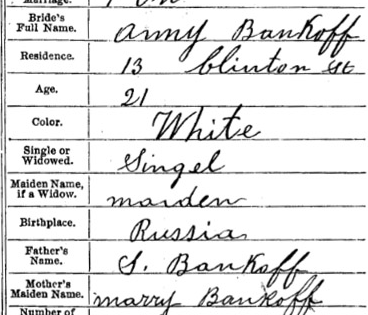 …and his parents' marriage certificate (at right) filled in the first names of these great-great-grandparents.  "S" as the name of Annie's father troubled me, since his name was literally carved in the stone of her tombstone as Netanel, but along with "singel" and "Marry," I chalked it up as the work of a dumb clerk.
I naively thought I was hours away from filling in the rest of this family's tree and immigration story, as I had been able to do so easily for the other branches I was researching at that time, but my usual research sites repeatedly failed to turn up anything on these three new-found ancestors.  Little did I know then how many years and how many twists this family's research odyssey would cover.
***
It was not until years later, when I was browsing this grandmother's photographs, that my next lead appeared in the form of one of the few labeled pictures: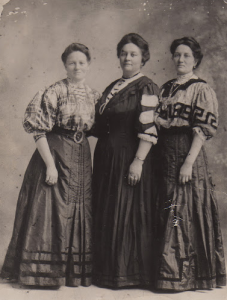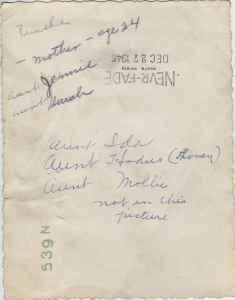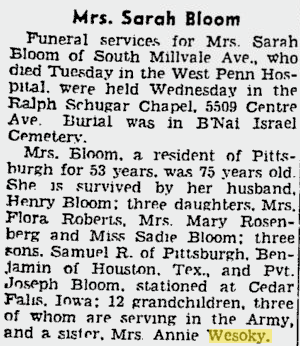 With five more Bankoffs to search, the only lead was this obituary from The Pittsburgh Press.  But Sarah's last name finally got me census records, including one which remarkably listed Sarah and Sarah's parents' birthplace as not just Russia, but Minsk!!!!!  Breakthrough!
At the time Minsk was both a guberniya (province) as well as the capital city of that guberniya, so I still had a long ways to go.  I turned to Belarus SIG, JewishGen's research hub for the modern country containing Minsk, where I came across a listing for a Sanel Yoselev Bankov on an 1884 tax list for Lachowicze, a town in Minsk guberniya.  I began to think…  Netanel… S…  Sanel… and it occurred to me I had been tripped up by my modern pronunciation of Netanel.  Back then he would have been Nesanel, hence the nickname 'Sanel, hence his appearance on the marriage certificate as "S. Bankoff!"  I so wanted to believe I'd found my guy, but there was no way to make the connection, and anyway, this Sanel would have been in his 50s when Annie was born.
Still, I couldn't let it go.  Months later I found my way to a JewishGen site focusing on the shtetl of Lyakhovichi (the modern name of Lachowicze), whose site administrator shared a number of entries from the 1874 List of Jewish Males of Lyakhovichi which filled out this Sanel's tree:
Mendel Bankov

Iosel Bankov, son of Mendel, born c. 1804

Sanel Bankov, son of Iosel, born c. 1828

Nevakh Bankov, son of Sanel, born c. 1852
However, my grandmother had listed her mother's siblings as five sisters, no brothers.  It now seemed even less likely that this too-old Sanel with one son was my Netanel.  Of the infinitesimal number of records indexed online out of the small number of records recovered from the hundreds of destroyed shtetls in Minsk, there was no reason to believe that the one and only Bankov I could find was mine.  It seemed I had gotten carried away.
I had started with one woman and recovered her maiden name, parents' names, five siblings, and even general birth area.  Maybe that was all I would ever find.  But the thing about a brick wall is that there's nothing else you can do but patiently and repeatedly bang your head against it to increase the odds that a crack might one day appear.  Might.
Continue onto Part Two, wherein the insane lady makes her appearance!