The frustration of being the genealogist in my family is that I'm always the one reaching out to relatives, close and distant, to learn more about our family.  I long for the reverse: to be found myself by a relative who has the stories, photographs, and connections to break through my toughest brick walls or add much-needed color to the barest areas of my tree.  But I sometimes overlook that twenty-one years ago that did happen to me: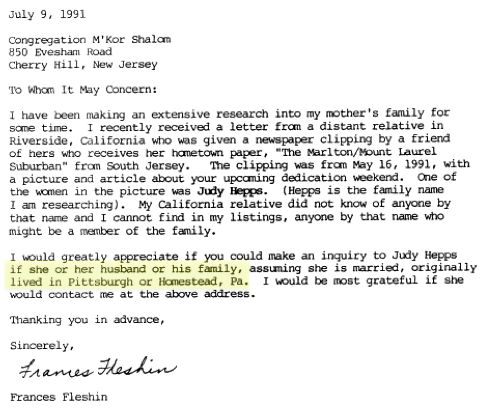 I cannot adequately express the excitement the arrival of this letter generated.  Though my father did as poor a job of keeping in touch with family as a person could, he raised my sister and me on stories of his beloved grandparents and favorite cousins.  He immediately reached out to Frances, who told him that we were the long-lost branch of the family!  (As my father still jokes, "But we always knew where we were!")  She found us just in time to include my father's recollections in her book all about my great-grandfather and his seven brothers and sisters, which she sent to hundreds of relatives in October 1991.
Naturally, Frances' book filled my head with many stories I had never known about my family — but unexpectedly, it confirmed many of the tallest tales my father told:  that my ggf brought over his siblings from Hungary to Homestead, PA and founded a synagogue and Jewish cemetery there.
By bringing the shadowy past into focus in the present, the book changed my entire perspective on my family, their legacy, and my responsibility towards that legacy.  It taught me that the unbounded curiosity I had always had about previous generations wasn't just a way to pester my parents and grandparents, but meaningful inquiries that could actually be answered.  It showed me that even though the people around me weren't all that interested in distant family history, there were people besides me who were.  Before the book I was a kid with a strange interest in dead people; after the book I had a sense of purpose as a fledgling genealogist.
Less than two months after we received the book, I became a Bat Mitzvah.  My newfound understanding of just how hard my great-grandfather worked to establish and support Jewish institutions in his little corner of this country made my coming-of-age ceremony even more meaningful for me.
Many years later when I self-published my own family book for my maternal side, I dedicated it to Frances Fleshin for "inspiring my enduring interest in genealogical research.  Her work showed me how the task is done."  You can draw a straight line from Frances' book to my creation of Treelines.  If people enjoy this site once it launches, they will have her to thank, too.
Happy Family History Month!