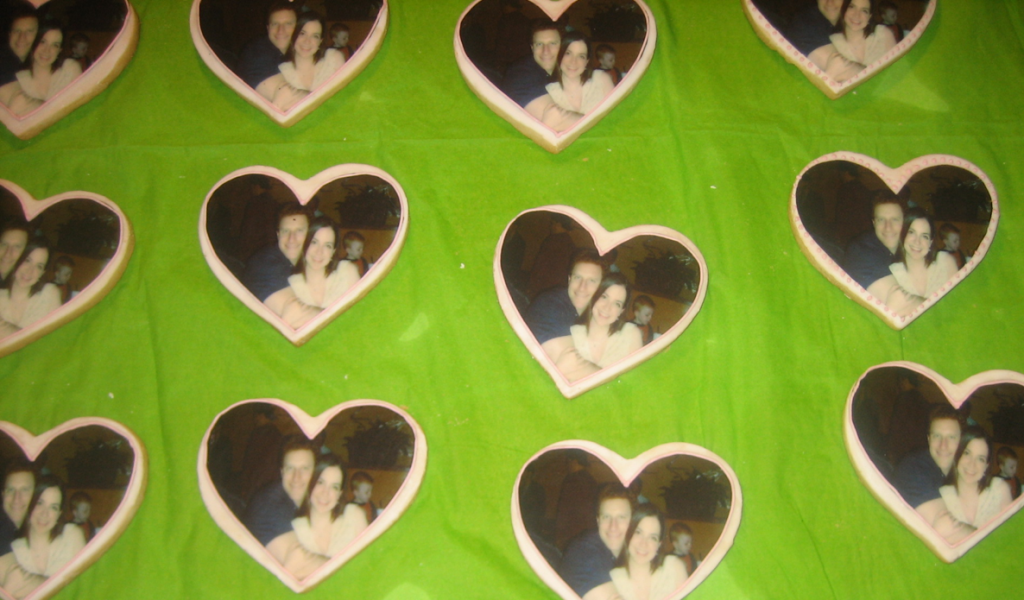 You might not realize how easy — and delicious — it can be to customize cakes and cookies with family photographs to add a personal touch to any family celebration — whether the upcoming holidays or another occasion!  The trick is knowing that you can order online your favorite family photographs printed in edible ink on edible paper.  Here are a couple websites that do this:
If you choose to make roll-out cookies as I did, here are a couple tips:
Match your cookie cutter to the shape of your icing cut-outs, but make sure the cookie cutter is a bit larger to leave yourself room when affixing the cut-out.
The fastest way to attach the cut-out to your cookie is by priming the cookie with a thin layer of watered-down royal icing.  No need to pipe your icing using an icing bag.  But if you are comfortable with piping, drawing a border around the image is a nice touch.
Attaching your picture to a cake is even easier.  Just ice the whole cake with buttercream as your normally would, and that's enough to hold the image.
These cookies were for my sister's bridal shower and featured a lovely picture of the engaged couple.   Here are some ideas for different occasions to get you brainstorming:
With the holidays right around the corner, wouldn't it be fun to share old family photographs of holidays from years past?
For a wedding you could also use pictures of the bride and groom as children
For an anniversary use pictures of the couple from their wedding day or favorite pictures from through their marriage
For a child's birthday, you'll have lots of adorable or hilarious pictures to pick from.  Or maybe use a picture drawn by your child!  For the birthday of someone older, choose pictures from their childhood or favorite life milestones.
Religious celebrations, graduations, baby showers, and communal celebrations are all occasions where showing off meaningful photographs can add a bit more fun to your desserts.
Hope you have as much fun as I did!
(And if doing all of this by hand isn't your thing, your local bakery almost certainly can do the job, too — though with a little less love.)