My first Halloween in college, my new friends and I celebrated in Salem, MA, where we toured the Salem Witch Museum, visited the Salem Witch Trials Memorial, and enjoyed a number of lighter activities more in the spirit of Halloween revelry.  I was surprised to see that not only had so many locations related to the trials been preserved three centuries later, but also that the scene of such terror had been turned into a sort of giant Halloween fair.
When my friend Robert Riger (he of the wayward cows) visited Salem more recently, he paid his respects to his ancestors, who had been accused, convicted, and executed for their alleged participation in witchcraft.
Each stone jutting out of the wall, or "witch's seat," bears the name of one of the nineteen people executed from June to September of 1692.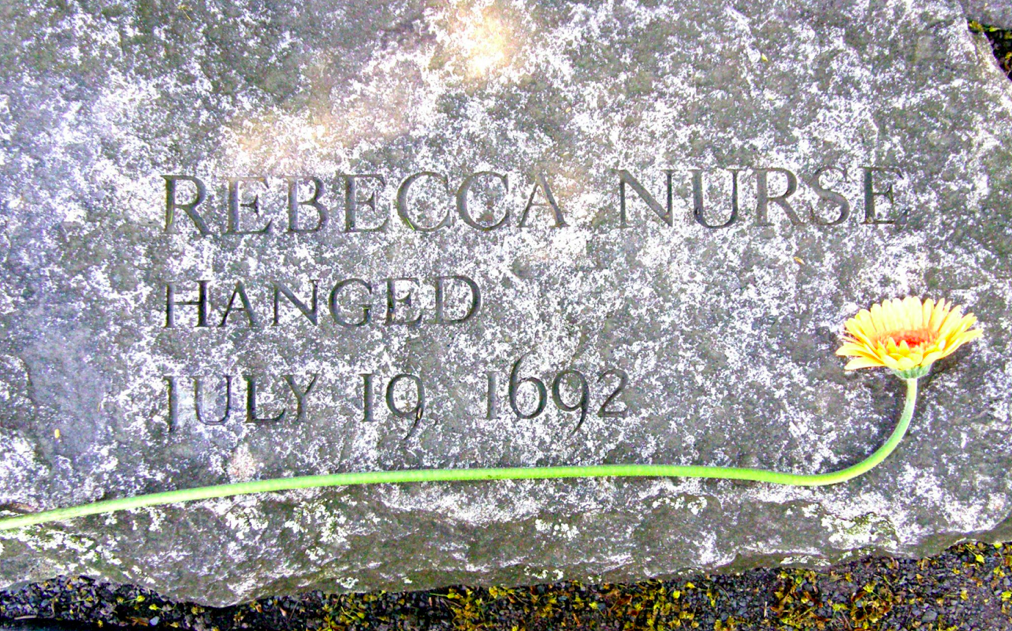 Rebecca Nurse may be known to us from Arthur Miller's The Crucible, the famous dramatization of the trials, but to Robert she is his 9th great-aunt.  Of the hundreds more involved, 25 are ancestors of Robert's.  Moreover, when Robert began to trace his husband Dick's family tree, he discovered that many of these people were their shared ancestors!  Rebecca Nurse's father, William Towne, is both Robert's and Dick's 10th great-grandfather.  The table below lists shows their connections to the Towne sisters and others of their 42 ancestors involved in the trials, including ⊕ those who appear in The Crucible.
Ancestor
Involvement
Relationship to Robert
To Dick

⊕ Rebecca

Towne Nurse
Hanged on July 19, 1692
9th great-aunt
9th great-grandmother
⊕ Elizabeth Proctor
Convicted, but was granted a stay of execution, because she was pregnant. Her husband, John, hanged on August 19, 1692. Both of their children were accused, too. Their third child was born in prison.
1st cousin 9 times removed
–
⊕ Thomas Putnam
The main accuser behind the trials. His wife and daughter were also accusers.
–
2nd cousin, 9 times removed
⊕ Joseph & George Herrick
Magistrates for the trial
8th great-uncles
–
Mary Towne Estey
Hanged on September 22, 1692
9th great-aunt
9th great-aunt
Sarah Towne Cloyce
Convicted, but escaped
9th and 10th great-aunt
9th great-grandmother
Ann Foster
Tortured, convicted, and died in prison after 21 weeks of incarceration at age 75.
9th great-grandmother
related distantly
John Alden, Jr.
Accused, but escaped to NY
Son of Robert's 9th great-grandparents, Mayflower passengers John Alden & Patricia Mullens
–
This may be a bad time to write this post, as leading genealogists Dick Eastman and Megan Smolenyak have lately been fomenting a backlash against all the "Surprise, they're cousins!" press releases. Smolenyak explains:
Colonial times in North America constitute a famous cousin sweet spot. They're long enough ago that genealogical math has had a chance to work its magic, but recent enough that there's often a paper trail to follow. That's why…the touted connections almost always involve a shared colonial American or French-Canadian ancestor. And the living celebrities will rarely be more closely related than seventh cousins. In fact, they're most often eighth, ninth or tenth cousins.
And indeed, despite sharing 16 direct ancestors, Robert & Dick do not meet Smolyenak's standard for notability — before marriage they were only 9th cousins (though many times over), and their common ancestors, "witches" and others, are all Colonial Americans.  But still, it's cool for them to know they share a personal connection to this oft-invoked chapter of Puritan zealotry.