PhillyGeoHistory Maps Viewer is an amazing tool that allows the user to overlay seventeen different historical maps of Philadelphia from 1808-1962 over a present-day Google Map to see how the city evolved over the past two centuries.  For example, when I visited the old neighborhood, this lone standing home is all my cousin and I found at the corner of 8th and Emily, where my great-great-grandparents and their unmarried children lived in the 1910s and '20s.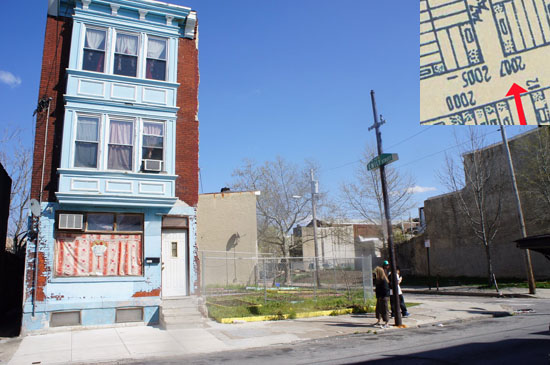 All the empty lots on this side of S. 8th made it impossible to guess where #2007 had been.  But the 1942 land use map produced by the Works Progress Administration (inset into the photograph) shows that #2007 stood on the empty lot at the right of the photograph.
By the 1930 census, these great-great-grandparents were living at 1146 S. 5th St.  Where I had expected to see this home, instead I found most of the block taken up by a public school whose cornerstone was dated 1935.  This section of the 1910 Bromley Philadelphia Atlas shows where their house once stood – opposite an iron foundry!  What must it have been like to have lived there?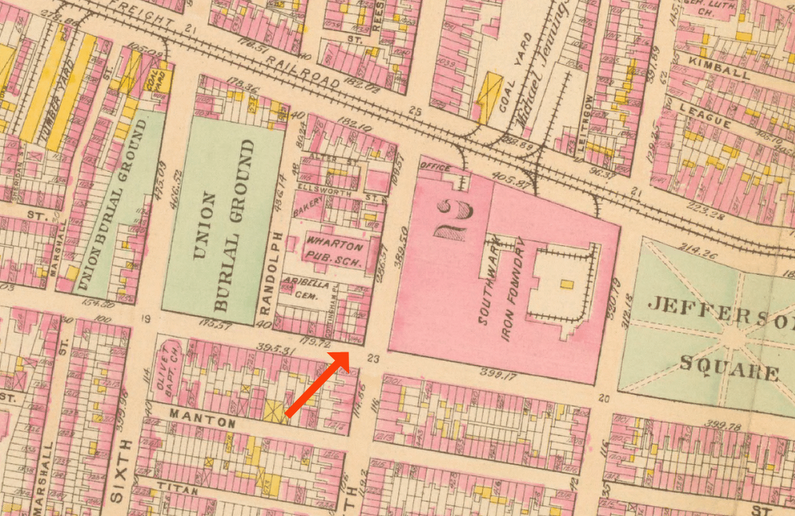 This fascinating detail was just one of many examples where the rich annotations of these historical maps showed me what blocks had been like when my family resided there.  It's wonderful to find addresses in records, and it's memorable actually to visit those addresses — but for me the most satisfaction came from knowing exactly what my ancestors saw when they looked out their windows and walked around their neighborhoods.  These small details help me to understand better what their lives had actually been like.
This site is a great example of how to uncover the kind of historical context that adds so much meaning to our work as genealogists. Not all cities have tools as easy as this one (go Philadelphia! for once!), but historic maps exist for so many places inside and outside of the US. We just need to take the time to review them! The context will enrich our understanding of our family immeasurably.
(Adapted from an article previously published in The Chronicles.)