With the help of my friend Alex, I've been painstakingly reconstructing the movements of my margarine-moonshining ancestors.  Isaac Fine was the one who threatened to kill and/or bribe a witness set to testify against a couple of them.  We ran into trouble tracing Isaac after the moonshining period.  The last certain mention of him we had was the 1920 census.  The 1930 census included his wife, Minnie, and their three children who weren't yet married, but Isaac is not listed with them, though Minnie still lists herself as married.  Where was he?  Minnie's death certificate from Brooklyn, 1932 also listed her as married, but did not list the name of her spouse.  Why?
Alex dug into the matter further and located a 1930 census record taken not far from Brooklyn for an Isaac Fine of the right age and country of origin.  This Isaac Fine was listed as an inmate of the Kings Park State Hospital, then a notoriously awful insane asylum.   The 1940 census had this Isaac still in an asylum, the nearby Pilgrim State Hospital.  If this Isaac Fine were mine, that would explain Minnie's married-but-husbandless status.
There was another reason why I believe Isaac Fine could have gone insane, and it's because I already had evidence suggesting what Isaac had gone insane from! You see, Minnie was married once before (though Isaac might not have known it, as the certificate for her marriage to Isaac lists their marriage as her first).  This earlier marriage lasted only two years, because her first husband died of syphilis!  Did he transmit it to Minnie?  Could Minnie have transmitted it to Isaac?  All these unlikely coincidences began to convince me that the hospitalized Isaac Fine was mine.
Guided by advice on RootsWeb, we decided that a death record would be the fastest way to connect this Isaac connected my family.  Alex contacted someone through Random Acts of Genealogical Kindness to look him up in the New York State Death Index.  Four days later, she reported that she could find no matching record.  But she did point out a 1920 census record from Stamford Hall Company, another area psychiatric hospital, that had an Isaac Fine whose details were consistent with the one we had been chasing.  As we already had our Isaac Fine where he was supposed to be in 1920 — at home with his wife and children in Brooklyn — it seemed unlikely he was in a psychiatric hospital at the same time.*
Her discovery from 1920 was what was required to end our own temporary insanity and stop trying to put my Isaac in an insane asylum.  We returned to our regularly scheduled research plan and looked up NYC death certificates, quickly finding a clear match for an Isaac Fine who died of a stroke in a regular hospital in Brooklyn a year after Minnie.  Further, a closer look at the reverse of Minnie's death certificate showed that her death was reported by Isaac, whose address was the same as hers.  So, while we still don't understand why he isn't with her and his kids on the 1930 census, it doesn't appear that insanity is the answer.
I heard a great talk at IAJGS last week by Israel Pikholtz, who reminds us that "engaging in wishful thinking" is one of the main ways genealogists leap to conclusions the evidence only partially supports.  For that reason Alex and I wasted time on a wild goose chase through the insane asylums of the greater New York area when the answer was exactly where we had originally expected to find it.  Well, it was fun for the four days it lasted, though I'm happier knowing that poor Minnie and Isaac, who had already been through so much, didn't have to endure this as well.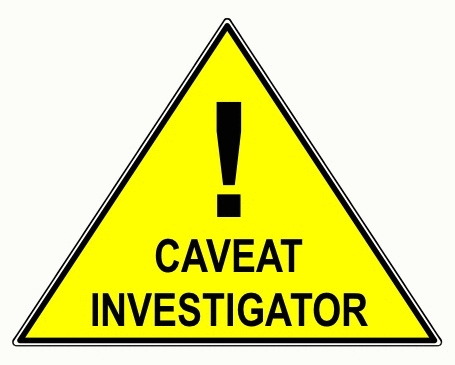 * Although, not impossible!  In the 1910 census two of my margarine moonshiners are listed twice — at home with their families and also imprisoned in Leavenworth — contrary to the instructions given to the census takers.
Previously in this series:
When Genealogy Severed My Great-Grandfather's Pinky