"Genealogy is like any other -ology.  Best left to the scientists."

— Keith Chadwick
The second episode of HBO's Family Tree, which aired last night, picks right up with Tom showing his father the strange photograph of Harry Chadwick.  (Catch up on the first episode here.)  Great-grandfather is compared to a photograph of his son and to his living grandson and great-grandson — and not a drop of "Chinese-ity," as Tom's father calls it, to be detected in any.  Eventually the inscription on the back of the photograph is deciphered as "To the best Nanki-Poo in Hove," which confirms that unsurprisingly, Harry was not Chinese, but an actor who once played a Japanese role. (Anyone who looked at Harry's photograph could see that clearly, right?)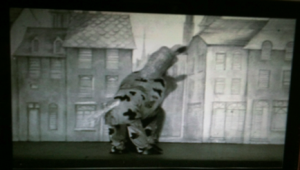 Off to Hove Tom goes, accompanied yet again by his faithful, but idiotic friend Pete.  An elderly former neighbor of Harry's directs them to the local theater, where it is revealed to Tom by degrees that the fame his great-grandfather achieved on the stage was actually for playing… the tail end of a pantomime horse.  Lucky Tom is shown an old photograph and video footage (!) of his great-grandfather performing.  He leaves with his great-grandfather's costume and a new bit of information:  Harry's wife had an affair with Sid, the fellow who played the front-end of the horse.  The affair broke up the partnership, and after Harry died, his wife and former partner married and left town together.  The news hits Tom hard, as he also feels cuckolded by his former girlfriend.
Like so many of us, Tom wishes to pay homage to his great-grandfather.  He & Pete enter the annual costume horse derby, which Harry & Sid often won.  Needless to say, they do not continue the family tradition.  But it's sweet that Tom cared so much.
After a creepy blind date (about which the less said the better), the episode concludes with a poignant scene in a cemetery — Tom reflecting on the sad end to Harry's life — while the camera lingers on the backend of a horse engraved on Harry's tombstone.  This was the part of the episode where I started yelling at the screen — this time for Tom to look at the names on the surrounding tombstones.  He notes only two, Harry's parents, and wonders why their birth dates are not indicated on their tombstones.  Perhaps this mystery will occupy Tom next.
***
I'm beginning to see how this show operates.  The nature of genealogical research brings Tom into contact with new weirdos in new comedic settings every episode, perfect for Christopher Guest's style of short vignettes with a wide range of actors.  Unfortunately like many viewers I'm just not finding it all that funny so far.
It's also a little predictable, and I don't think that's just because I do genealogy and recognize all the old canards.  But I'll keep watching.  The moments were Tom feels truly struck by the emotion of walking in Harry's footsteps certainly feel genuine, unlike the absurd situations he keep walking into.  Though it can't help that Tom is, well, such a loser, whose own family thinks his hobby is just a passing phase to fill the void in his life, these moments, plus the general fun and easy (too easy!) satisfaction of Tom's genealogical journey, certainly present our obsession well to a new audience.