Hard to believe it's been only a month since our big launch at RootsTech!  Last time we wrote, we had just arrived in Chicago to present Treelines at the national conference of the Association of Professional Photo Organizers.  It was such fun introducing Treelines to this wonderful group, who help other families organize and preserve their own history.
Since returning from APPO we've made lots of tweaks to the Treelines storybuilder to make it even easier and more fun to use.  We wanted to draw your attention to one of the bigger ones:  contextual help overlays!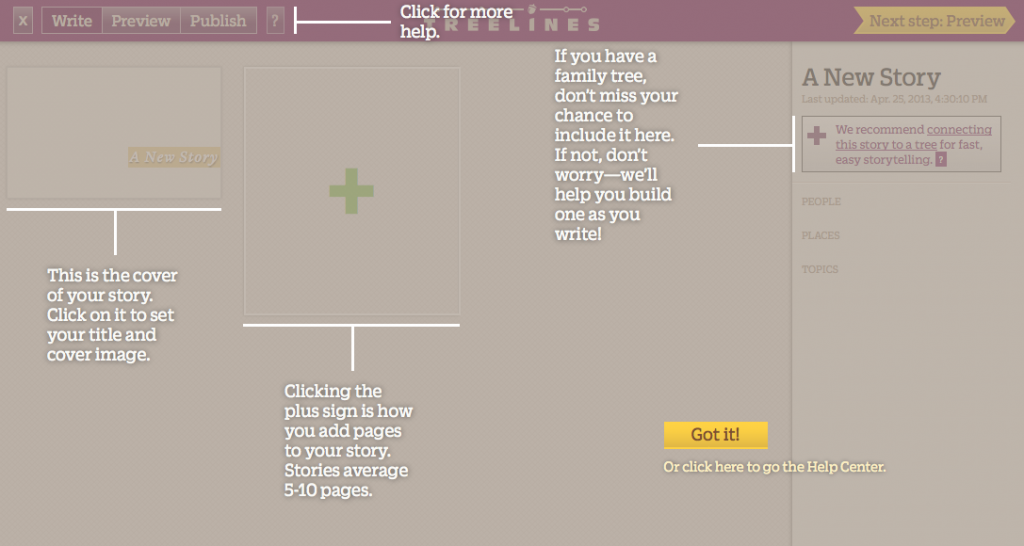 When you use the storybuilder for the first time, overlays like the one above will appears as you encounter different areas of the storybuilder for the first time.  We hope this will make it easier for new users to get the hang of things.  To be unobtrusive, each overlay only app

ears the first time you encounter something new, but everywhere you see a purple box with a question mark like the one at the left, you can bring back the help tips.
Of course, we have a whole help center at your disposal, with tutorials and FAQs, but we think this way is so much easier and faster when you're already immersed in writing.
No idea what we're talking about?  Haven't yet given Treelines a shot?  Sign up for our waiting list to join Treelines today!