A nine year-old girl loses a beloved aunt, but at the burial she catches sight of a name…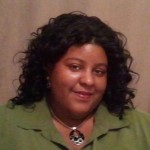 Almost thirty years later, Taneya Koonce is now an accomplished genealogist, with a particular focus on technology and historical newspapers befitting her professional expertise in information management and organization.  She blogs actively and volunteers extensively with the USGenWeb Project.
Taneya joined Treelines right after we won at RootsTech, and she wrote her first story the evening her invitation came.  "It was so very cool!" she wrote.  "At first, when I was faced with the task of writing a story I didn't know what I would say. I do not consider myself a storyteller at all. But, I kept on and actually am quite proud of myself."  And we're proud that it was Treelines' storybuilder that changed her mind! 🙂 We admire that in both of her stories, she used small details — the names of her ancestors — as the jumping-off point to ask deeper questions.
You were just 9 when you had your "first genealogy moment."  What kinds of genealogy did you do when you were growing up?
Growing up, I actually did not do very many genealogy activities.  Besides having a general interest in those that came before me, I didn't seek out genealogy.  Then, when I was in college, one summer (circa 1995) I decided I was going to interview both of my grandmothers to learn more about our families and their background. I don't actually remember what prompted me to do it, but I am extremely glad that I did.  By the time I decided to actively pursue genealogy as a full-time hobby in 2005, both of my grandmothers were ill, suffering from Alzheimer's.  Those days I'd spent with them 10 years earlier to record their stories made a huge difference.
As an adult you've become involved in just about every area of genealogy — technology, DNA, records, and lots of volunteering and writing and speaking.  (Wow!)  What inspired you to elevate genealogy from a childhood interest to your major hobby as an adult?
My inspiration to become super-involved in genealogy was quite gradual, but in so many ways, my genealogy interests overlap with my experiences and interests outside of genealogy.  I am naturally interested in technology, was a biology major in college, and was always interested in genetics, and I have professional experience in writing and presenting.  One reason genealogy has been such a perfect hobby for me is that it has allowed me to apply skills and interests I've already gained.
My extensive volunteer efforts with the USGenWeb came about because of the benefits I'd reaped from those who shared information on the USGenWeb sites before me, and so I had to "pay it forward," and I've tremendously enjoyed helping others in their genealogy and family history searching.
One of the things I love about your stories is how you've gotten inspired by small details, even just the names of ancestors!  Any advice for other genealogists to similarly turn small clues into larger family insights, as you have?
I personally find those small clues to be great places to start, and it's interesting how they will lead you from place to place.  In my volunteer work for the USGenWeb, I see so many people inquire with extremely broad questions on how to research their families, and my advice to them is always to start small; identify one or two things that you want to know about and then follow the clues out.
Perhaps it is also my professional training – as a librarian, we very early on learn theoretical models that apply to searching for information, and one I early on identified with was "pearl growing."  Pearl growing search strategies begin with a specific known fact/item, and you successively build on it. So, my advice for others is to think about those "pearls" you have in your family history and search for information that can help you "cultivate" them.
You've been a geneablogger for some time, sharing your family stories and research on your own blog.  What made you want to share your stories on Treelines as well?
I started looking into Treelines after learning that you'd won the RootsTech 2013 Developer Award. Being as technically-inclined as I am, I love to play around with tools, so I signed up for an account.  I read some of the other stories on the site and decided to play around with my own story.  After going through that process, I definitely wanted to continue and do more. What I appreciate about the Treelines structure is the ability to present the story in a very visually appealing format and the segmentation into smaller "chunks" of information, combined with the photo integration and connection to family tree data.
You wrote to us that you don't consider yourself to be a storyteller, but you've shared two great stories already!  How did you overcome your reluctance?
It has really been the design interface of Treelines that has helped me overcome my reluctance. The format of the site makes it easy to create and share stories.  After I did my first story, I recalled so many tidbits that I've learned from my mother over the years about her family, and now I want to focus on working with her to capture them into Treelines stories.  We all have these "tidbits" that we can use and enhance them on Treelines. I am particularly looking forward to starting to share my Treelines stories with family members – it's just so much more interesting visually than what they would get from my blog posts, so I believe it makes a great counterpart.
Read more about the names of Taneya's family in her Treelines story, Seeking Christopher Columbus.